If you are wondering why Badass Beard Care made it to the top of our best beard wax list, then this page will have our full review of the product.
Company Background
Badass Beard Care was founded and owned by Charlie Moyer. After serving in the military for 10 years, he returned back to California and began his beard journey.
But he ran into a big problem. After about a month, it was getting too itchy and his wife didn't like how rough it was. Before deciding to shave it, he went on a quest to see if anything existed that could change that.
After finding a specialty beard store, he purchased some beard balm and hoped for the best. Unfortunately, it didn't work out as planned. First off, he disliked the scent and how strong it was. Secondly, it began to burn his skin. After reading the ingredients and not liking what he saw, he decided to try and make his own.
After a lot of trial and effort, he came up with a formula that he, and especially his wife, loved. And the rest is history.
They are currently based out of northern California and have a team of 13 employees. They are a small company, but they definitely know how to deliver quality products.
---
Badass Beard Wax Review
After doing research and using Badass beard wax, we think it is a great product. With a great mixture of quality ingredients, it smells great and has great holding power to achieve your best look.
---
Product
Pros
Cons


All-Natural Ingredients
Strong All Day Hold
Hydrates Beard
Reduces Flakes and Itching
Great Scents
Can Help With Growth
Not Organic
Not For Extreme Hold
---
Pros
1. All-Natural Ingredients
First off, we love that all the ingredients in this line of waxes are completely natural. That means that it doesn't contain any harmful chemicals that can mess around with your hormones and overall health.
This is really important because topically applied products seep into your skin and can possibly get into your mouth. The last thing that we want is to accidentally ingest a toxic chemical.
2. Smells Great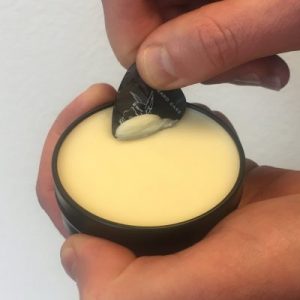 With 12 different scent options, you are bound to find something that is right for you. Although we haven't tested all the scents, the one's that we did try were perfect.
Aside from a pleasant aroma, it was the perfect potency. They weren't too strong where you got a headache, or too delicate where you didn't notice it.
We particularly love the Ladies Man scent. With aromas of citrus and vanilla, it has a nice balance. It says that it is an aphrodisiac to attract women. Now, I don't know if I believe in all of that, but females definitely enjoy the scent.
3. Essential Oils
The best part about the scents is that they are made from essential oils. Not only that, but the essential oils were chosen also have health benefits as well.
For example, tea tree oil is also an antibacterial and an antifungal. Along with different moisturizers, these ensure that you have healthy skin and facial hair, which means less flaking and itchy skin.
A healthy beard is a beautiful beard.
4. Perfect Combination of Moisturizers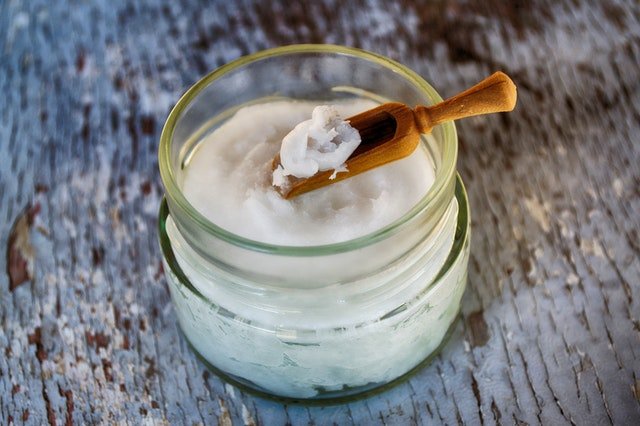 You can expect soft skin and beard with coconut oil, shea butter, cocoa butter, argan oil, Vitamin E, and jojoba oil as the primary ingredients.
Although all these oils have great moisturizing properties, they also carry different health benefits with them as well. Most other beard wax manufacturers only have a couple of these.
We think it was a really smart decision to combine this many, because they really help to condition the beard. In the end you will have hydrated hairs that prevent split ends and flyaways that can make a beard appear straggly. Also, things like coconut oil can help to actually promote beard growth.
5. Easy Application
One extra that we like is that each order of Badass beard wax comes with a guitar pick for easy application.
After scooping a little out with the guitar pick, this wax melts easily in your hands, which makes application easy. Also, a little goes a long way. So the 2 ounce container should last a decent amount of time.
6. Great All Day Hold
In the end, what matters with a beard wax is does it actually hold your beard. The answer is a resounding yes. One of the main reasons that we ranked it at the top of our list is because it has great hold.
On a scale of 1 to 10, I would rate the hold at an 8. It does this by using beeswax. Some of the cheaper alternatives use paraffin wax, which is a harmful wax made from petroleum.
Cons
1. Not Organic Ingredients
Ideally, we would have preferred them to use organic ingredients. In our opinion, organic ingredients are the best because they are free from pesticides and genetically modified ingredients.
There were only a couple beard waxes that we found with organic ingredients, but unfortunately we didn't like the hold and the scents as much as Badass Beard Wax.
2. Not an Extreme Hold Wax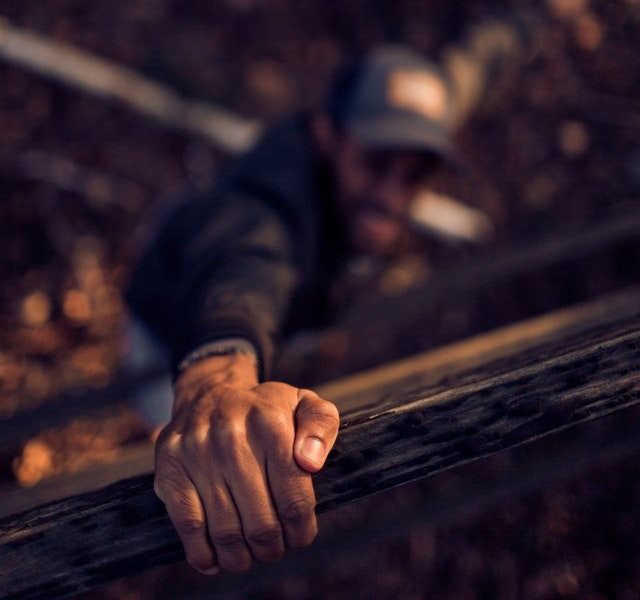 If you are looking for something with a 10/10 hold for competitions and so forth, this is not it. This wax is perfect for shaping and holding your beard, but if you are looking for something to help with extreme styling then you should choose another wax.
How To Use Badass Beard Wax
Using this beard wax is straight forward and simple.
Scrape out a small amount of wax using the guitar pick or your fingernail.
Rub between palms until melted.
Starting at the roots, apply the wax and work it outwards.
Use a beard comb or brush to evenly distribute the wax.
Shape as desired.
Conclusion
Badass beard wax is a great all around product.
With the ability to shape and hold, condition your beard, reduce beardruff and flaking, stop itchiness, and even encourage growth, this wax does it all.
With so many great scents, there is something to love for everyone.