If you are looking to buy the best beard wax, then look no further. We have done the research for you and found the best 12 waxes for ultimate hold and styling.
The good news is that the increase in the popularity of beards and facial hair has created an explosion in the beard care industry over the last 5 years. Now, the industry has many products that help men to keep their beards and facial hair looking good.
The bad news is that there are a lot of poor quality products and it's easy to get confused. We have done the hard work and narrowed them down for you.
In this guide, we will focus on waxes and reveal our top 12 best waxes for you to use.
If you are looking for other beard products, head over to our beard oil, beard balm, and beard shampoo pages. Each of these have their own individual purpose, even though some of the benefits may overlap.
BeardGrowthWorld.com is a community funded website. This post contains affiliate links. If you buy something from one of the links, it won't cost you anything more, but we may earn a small commission. We do our best to only recommend the best products for you.
---
BEST BEARD WAX: TOP 12 REVEALED
---
Overview
We have seen Badass Beard Care make it to the top of several of our lists. This time they made our list of best beard waxes.
The Badass Beard Wax is an incredible wax for men to style and shape their beards. Not only does it work well, but it also only has natural ingredients!
This scent called "The Ladies Man Scent", claims to have natural aphrodisiacs which may help attract the opposite sex! Either way, we are sure you'll love it. Badass also made our list of the best beard grooming kits with a whole package of products for styling and trimming your beard while on the go.
Check out the full review here.
Highlights
Help to style and shape beards.
Tames wild hairs.
Gives Extra Hold.
Helps to give beards a fuller thicker appearance.
Makes beard feel more dense.
Contains argan oil for improved beard health
Ingredients
Shea butter, cocoa butter, beeswax, coconut oil, Apricot oil, argan oil, jojoba oil, pure vitamin E oil, rosemary oil, eucalyptus oil, and tea tree oil. Additional essential oils are used for scent.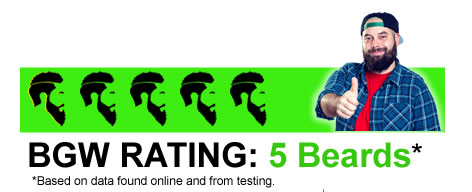 ---
Overview
Scruffy Jack's of California is a new comer to the world of beard care. In a short time, this beard company has created a line of premium items that are made from natural ingredients and are pretty awesome.
Not only that, but they are a veteran-owned company made for the outdoorsman, but the good news doesn't end there.
Respecting their customers and nature is part of their core philosophy. Because of this, they make sure to locally source their ingredients when possible and also give 5% of every sale to grassroots organizations that protect the planet.
This combination of ultra premium ingredients and company value is why their Grapefruit Bergamot beard wax is making it one of the top products on our best wax list. If you are looking for something with a medium hold, don't pass this beard wax up.
Highlights
Medium Hold.
Conditions beard hair.
Leaves beard smelling amazing.
Ingredients
Mango Butter, Almond Oil, Jojoba Oil, White Beeswax, Bergamot BF Essential Oil, Pink Grapefruit Essential Oil, Natural Fragrances, Vitamin E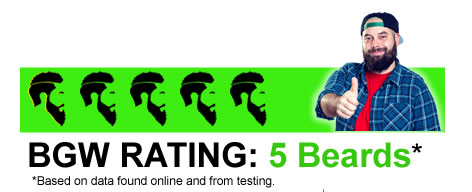 ---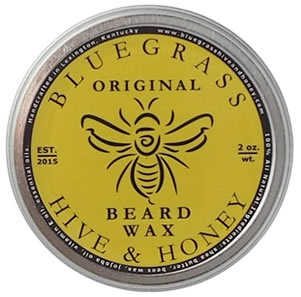 Overview
This beard wax is made by Bluegrass Hive & Honey, a company that prides itself on the locally sourced wax from Bluegrass bees. All of their products are handcrafted in Lexington, Kentucky.
The end result is an excellent wax that works well. It was chosen to be on our best wax list not only because of the high quality ingredients, but because it does what its says.
Highlights
Strong hold.
No stiffness.
No build-up.
Ingredients
Shea Butter, Beeswax, Jojoba Oil, Vitamin E Oil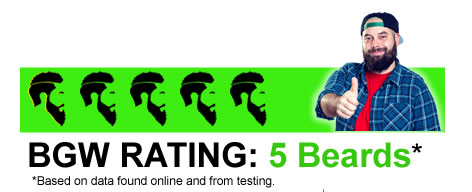 ---
Overview
Mountaineer brand is a company out of West Virginia that makes handmade products for beards and the body. Founded in 2013 by Eric Young, who has a long and epic beard, this company cares about delivering excellent and affordable products.
After losing his wife to breast cancer, he committed to using on the best all-natural products.
Their beard and mustache wax made it to our rundown because it's a great price and doesn't have chemicals. Best of all, it works well to tame frizzy beards and to create style and shape. One downfall is that they don't specify the essential oils.
Highlights
100% natural.
No Chemicals.
Extra Firm hold.
Helps tame and shape beard.
Ingredients
Beeswax, Prunus Dulcis (Almond) Oil, Cocos Nucifera (Coconut) Oil, Wax Scents contain Scented Oils.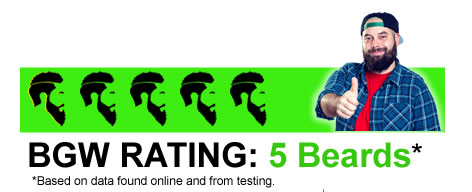 ---
Overview
This is our first experience with the Seven Potions brand. This men's grooming product company started in 2014 so is a newer addition to the industry.
Their Woodland Harmony beard wax made it on to our list because it is a product with organic ingredients that really works well.
It has a nice musky scent that isn't overpowering. Also, it provides strong holding power without any sticky residue.
Highlights
Strong hold with no sticky residue.
Tames flyaway facial hair.
Ingredients
Coconut oil, Palm oil, Jojoba wax, Peach kernel oil, Cocoa butter, Beeswax, Avocado butter, Palm free vegetable glycerin, Vitamin E, Cedar wood essential oil, Sandalwood essential oil, Fragrance (blend of organic essential oils)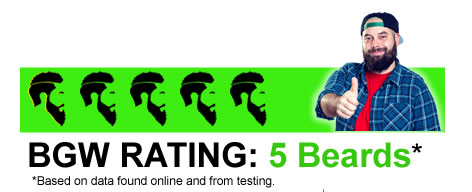 ---
Overview
Billy Jealousy men's grooming brand has been around since 2004 when Pat Parsi started the company. Pat has done an incredible job at creating things that truly are world class. Plus, they're Made In America. Billy Jealousy Tin Man No 1 is no exception and is on our best wax page because it's a wax that simply works!
The primary ingredients in this are wax, lanolin wax and glycerin. These ingredients help to not only tame frizzy flyaway beard hair but they also help to sculpt the beard and keep it looking perfect.
Some added benefits include softening of facial hair and prevention of itching and flakes.
Highlights
Tame frizzy hair.
Sculpts and shapes beard.
Softens beard.
Stops beard itching and flaking.
Ingredients
Beeswax, Lanolin Wax, Glycerin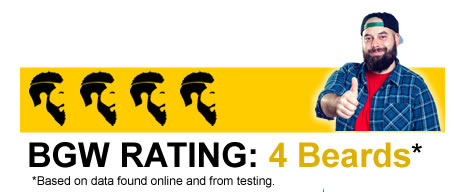 ---
Overview
The Honest Amish brand makes a variety of high quality waxes and beard balms that we simply love. Their Honest Amish Original Beard Wax is no exception and that is why it's on our list.
This beard wax is handcrafted in the USA and was their first creation.
Using locally harvested wax and organic oils, they have created a beard wax that smells great and works as good as it smells. It produces a nice shine and offers a strong hold at the same time.
Highlights
Offers beard control.
Light shaping.
Eliminates out of control beard hairs.
Softens and conditions facial hair.
Ingredients
Shea butter, olive, palm, coconut, and virgin pumpkin seed oil, blend of 4 essential oils, beeswax, carnuba wax, candelila wax.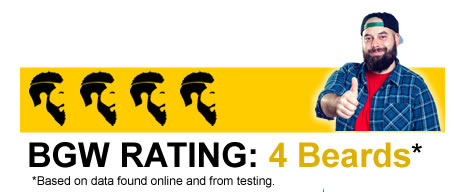 ---
Overview
For the next product, we go outside the United States to Barcelona. Urban Nomads is a brand of beard products that we had never heard of before. While this company also sells other merchandise such as skin care and shaving products, we are impressed with their beard products as well.
For a beard wax, this is an amazingly lightweight wax that does not leave your beard feeling to stiff. That being said, it still provides great hold and and nourished the skin and hairs to keep them healthy.
Highlights
All Natural Ingredients.
Beard control.
Keeps Hairs Soft.
Fights dryness.
Ultra Conditions beard.
Ingredients
Argan Oil, Shea Butter, Beeswax, Sweet Almond, Rosehip, Bergamot Orange, Lemon with Vitamin E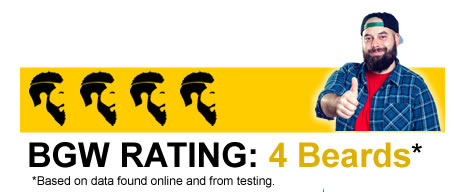 ---
Overview
Death Grip Moustache Wax is made by the Vintage Grooming company based out of Colorado.
Even though this wax only contains 3 ingredients, it does what it is meant to do. And that is to have an extra firm hold.
Most people say that once this wax takes hold, it is like super glue. So, you know how strong this is.
But aside from brute strength there are a few other things we like about it. First off, the company put some thought into the ingredients because they are cruelty-free. Also, people love the subtle and woody pine scent.
We are happy to have this mustache wax as part of our list.
One downfall of this wax is that it doesn't come in a 2 ounce container like most of the others. So, take into consideration the smaller size when ordering.
Highlights
Excellent as a mustache wax.
Best for extreme styling.
Provides a extra strong hold.
Great woodsy scent.
Ingredients
Lanolin, Beeswax, Pine Gum Resin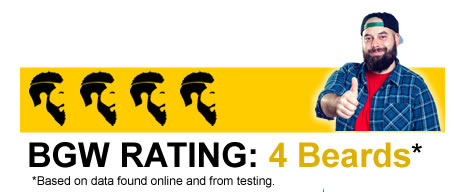 ---
Overview
We had to add this very stylish beard wax to our list of best waxes.
This wax is made by Bearded Goons Skincare, a company that is based out of good old Pennsylvania.
And this wax knows exactly what it is meant for. That is to have a strong hold without any heavy scents.  It is also easy to use because it melts in your hand and goes on smooth.
Lastly, this is another product that is not tested on animals. So if you are looking for something that is cruelty-free and easy to style, this is a good choice.
Highlights
Tames wild and unruly facial hair.
Strong hold.
Very mild smell.
Ingredients
Beeswax, Shea Butter, Coconut Oil, Lanolin, Carnauba Wax, Pine Tree Resin, Essential Oils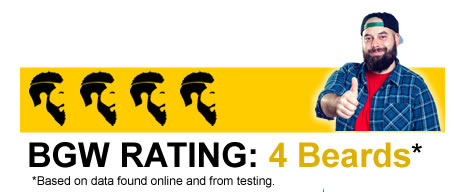 ---
Overview
Morgan's Pomade Company Ltd. has been around since 1873 in England! Their first product was a shampoo then a year later they created a pomade. In the 1970's they introduced hair styling products and these became popular with barbers.
Today, Morgan's Pomade Company Ltd. has many different options including beard care products.
Their Morgan's Beard and Mustache Wax is a very good product. This wax contains a blend of essential oils which includes jojoba and eucalyptus plus bergamot, jasmine, sandal and patchouli for fragrance.
Of course the primary styling ingredient is beeswax which gives the holding power to this beard balm.
It also comes in a very cool vintage style jar. This combined with the fact that this mustache wax works well is why we added this to our top 12 list.
Highlights
Softens and rehydrates facial hair.
Soothes and conditions the beard.
Helps to style and shape the beard.
Ingredients
Blend of essential oils which includes jojoba and eucalyptus plus bergamot, jasmine, sandal and patchouli for fragrance (partial list)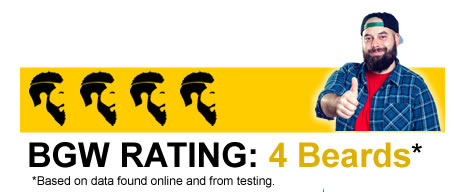 ---
Overview
The Beardilizer company was started in 2013 and has risen to be a prominent player in the industry. With a wide variety of products, they truly have created an incredible brand.
We may not like every product the company makes, but we love the Beardilizer Sandalwood beard wax. It's an amazing beard wax and we love to share it with you.
This wax has tremendous holding power and can keep hair in place all day. It's 100%  vegan and made in the USA. Also, it comes in a large 4 oz size, which is much larger than some competing brands.
Plus, according to the Beardilizer website, this wax is preferred by bodybuilders all over the world. This is more than enough reason to give this beard wax a try.
Highlights
Professional beard competitors prefer this wax.
Great beard shaping wax.
Prevents wiry facial hair.
Softens beard.
Conditions facial hair.
Great beard moisturizer.
Ingredients
Helianthus Annus Seed Oil, Beeswax, Butyrospermum Parkii Butter, Euphorbia Cerifera Wax, Parfum , Olea Europaea Fruit Oil, Argania Spinosa Kernel Oil, Prunus Armeniaca Kernel Oil, Mangifera Indica Seed Butter, Rosmarinus Officinalis Leaf Oil, BHT, Ricinus Communis Oil, and Biotin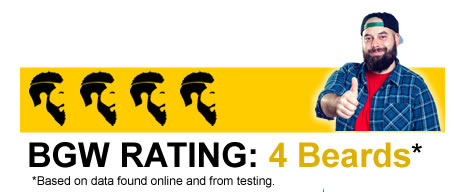 ---
OUR RATING CRITERIA
When we are creating a list of top products, we take it very seriously. We want to make sure that we are only recommending the best things from the best companies.
When examining the different beard waxes, we had several criteria that we took into consideration.
First, we looked at what ingredients are in the wax. Since these waxes are going around your mouth, in your beard, and on your skin, we wanted them to be chemical-free. Any companies that took shortcuts and put dangerous chemicals in the wax were eliminated.
Secondly, does the wax work? We understand that everyone has different needs and wants in a beard wax. Some people want it for intense styling, while others just want to tame their unruly and wild hairs to give the beard shape. Because of this, we wanted to highlight different products for everyone. In the end, these waxes do what they say.
Third, we took price and volume into consideration. Any waxes that only come in 1 ounce sizes were given lower rating. Not only it is a pain to have to buy it more often, it also increases the price per ounce and makes it more expensive.
Finally, bonus points were given to brands that have a greater goal. Basically, we want to purchase our wax from companies that care about the animals, plants, environment, and their customers.
HOW DO YOU USE BEARD WAX?
Using a beard wax is very simple to do.
First, use a thumbnail or a guitar pick to scrape a little bit out of the jar. Usually, a dime size amount will do. Next, rub it between palms of hands until it gets warm and melts. Then, apply it to facial hair from the roots and then move outwards. If you need a little bit more you can add some more. Finally, brush with a good beard brush to distribute the wax evenly.
Frequently Asked Questions
WHAT DOES BEARD WAX DO?
Beard wax has natural oils and moisturizers but it's primary purpose is to help sculpt and keep beard hair in place. It basically gives a beard strong hold.
WHAT IS BEARD WAX USED FOR?
It is to used to help beard hair stay in place for styling purposes.
Waxes can be used in beard competitions to help the contestants keep their amazing beard styles looking perfect. Also, at the consumer level, beard wax can be used by anyone with a beard to keep their beard in the shape that they desire.
It can also be used to help tame frizzy and wiry facial hair that is a common problem when growing a beard.
WHAT'S THE DIFFERENCE BETWEEN BEARD BALM AND BEARD WAX?
First, beard wax and beard balm are very similar. Both contain natural oils and even different types of wax. The main difference is in the percentages of each of the ingredients.
Beard wax will have a much higher percentage of wax than beard balm because beeswax is excellent as a holding agent to keep hair in place. While beard wax has some of the same properties that you would see in a beard balm or even a beard oil, it's main purpose is to hold facial hair in place.
On the other hand, beard balms and oils are used to soften and moisturize facial hair and to stop beard dandruff. Although some beard waxes do have some of these same benefits, they are not the primary focus of the product.