Are you looking for the best beard shampoo to cleanse your mighty mane?
Let's face the facts, a regular shampoo just won't cut it for getting your beard in its best shape. So, look no further, because we have done all the research and testing to give you only the best shampoos on the market.
In this in depth article, we will start out by giving you reviews of the top shampoos. Then, we will go over all the questions you may have about these important products.
Beard shampoo or beard wash is shampoo specifically designed for the beard. It is much different than standard shampoo and is an important part of your daily regimen.
BeardGrowthWorld.com is a community funded website. This post contains affiliate links. If you buy something from one of the links, it won't cost you anything more, but we may earn a small commission. We do our best to only recommend the best products for you.
---
BEST BEARD SHAMPOO ON THE MARKET: TOP 15
---
Product
Highlights


BEST OVERALL
#1 Professor Fuzzworthy


Rating: 5 Beards
Form: Bar
All-Natural: Yes
Sulfates: No
Parabens: No
Artificial Color: No


#2 Maison Lambert


Rating: 5 Beards
Form: Bar
All Natural: Yes
Sulfates: No
Parabens: No
Artificial Color: No


#3 Mountaineer


Rating: 5 Beards
Form: Liquid
All-Natural: Yes
Sulfates: No
Parabens: No
Artificial Color: No


#4 Wild Willies


Rating: 4 Beards
Form: Liquid
All-Natural: Yes
Sulfates: No
Parabens: No
Artificial Color: No


#5 Polished Gentlemen


Rating: 4 Beards
Form: Liquid
All-Natural: No
Sulfates: No
Parabens: No
Artificial Color: No


#6 Art Naturals


Rating: 4 Beards
Form: Liquid
All-Natural: No
Sulfates: No
Parabens: No
Artificial Color: No


#7 Zeus


Rating: 3 Beards
Form: Liquid
All-Natural: No
Sulfates: No
Parabens: No
Artificial Color: No


#8 Mr Rugged


Rating: 3 Beards
Form: Liquid
All-Natural: No
Sulfates: No
Parabens: No
Artificial Color: No


#9 Billy Jealousy


Rating: 3 Beards
Form: Liquid
All-Natural: No
Sulfates: No
Parabens: No
Artificial Color: No


#10 Spartans Den


Rating: 3 Beards
Form: Liquid
All-Natural: No
Sulfates: No
Parabens: Most Likely
Artificial Color: No


#11 Viking Revolution


Rating: 3 Beards
Form: Liquid
All-Natural: No
Sulfates: No
Parabens: No
Artificial Color: No


#12 Rugged Bros


Rating: 3 Beards
Form: Liquid
All-Natural: No
Sulfates: No
Parabens: Most Likely
Artificial Color: No


#13 Grave Before Shave


Rating: 3 Beards
Form: Liquid
All-Natural: No
Sulfates: No
Parabens: Most Likely
Artificial Color: Yes


#14 Beardsley


Rating: 3 Beards
Form: Liquid
All-Natural: No
Sulfates: No
Parabens: Yes
Artificial Color: No


#15 Bluebeards


Rating: 2 Beards
Form: Liquid
All-Natural: No
Sulfates: Yes
Parabens: No
Artificial Color: Yes
---
Overview
What can we say? This product made it to the top of our best beard shampoos list not only because it's a fantastic product, but we love the name! Professor Fuzzworthy…who wouldn't love that name?
On a more serious note, the Professor Fuzzworthy's beard shampoo is unlike others we have on this awesome list. While many of the beard washes we have reviewed here are liquid, Professor Fuzzworthy's is a bar of soap.
The product's makers claim the bar will last as long as two 13.5 fl oz of Liquid Shampoo.
This beard wash is easy to use and smells amazing with its fresh clean scent.
The ingredient list contains the best ingredients sourced from Tasmania such as Tasmanian Apple Cider Vinegar and Tasmanian Seaweed. It also uses antiseptic essential oils.
We believe this is one of those must have grooming products that you definitely want to buy.
Pro Tip: Check out the combo package that has the bar holder. This is the perfect addition to your shower to keep it lasting extra long. Also, check out our list of the best beard oils to use for extra conditioning afterwards.
Read our full review.
Highlights
Softens and conditions.
Leaves beard shiny, healthy, and fluffy.
Last as long as two 13.5 fl oz of Liquid Shampoo.
Stops beard itch.
Antiseptic.
Ingredients
Mount Wellington spring water, olive, coconut castor oils, soy wax Leatherwood beeswax, Tasmanian Apple Cider Vinegar, Tasmanian Seaweed extract, Leatherwood honey, cocoa powder, Kunzea & essential oils.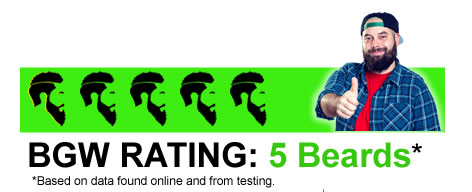 ---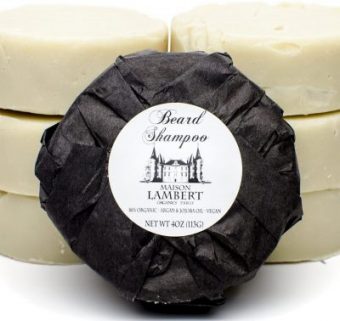 Overview
Just like our #1 entry, Maison Lambert makes an amazing product that comes in bar form.
We absolutely love that it is handmade and has the best ingredients that you can actually pronounce. This means that it is free from harsh chemicals and toxins. Also, people with sensitive skin will love the simple formula because it is hypoallergenic.
In addition to that, these guys are an environmentally friendly brand. We already told you that you will save the plastic bottle by purchasing this bar, but they also do not test on animals.
In the end, all the guys that used this wash loved it. It does an amazing job at cleaning your beard, while leaving it soft and healthy. This is a great option to buy!
Highlights
Stops beard itch.
No SLS, Parabens, Sulfates
90% Organic
Vegan.
Helps to soften and make beard full.
Moisturizes skin underneath.
Produces a lot of lather quite easily.
Great for sensitive skin.
Ingredients
Aloe Vera*, Palm Fruit*, Coconut*, Castor*, Olive*, Unrefined Argan*, Jojoba*, Cocoa Butter*, and Grapeseed Oil*, Bentonite Clay, essential oils of: Cedarwood, Lavender, Tea Tree, Rosemary, Lime.
*Organic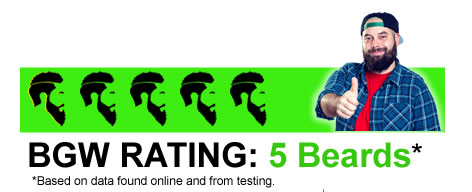 ---
Overview
The Mountaineer Brand is growing in popularity. They make several different shampoos, but we think that their coal scented option is one of the best on the market.
It is very mild and produces a good amount of lather. Also, it's a liquid castile soap designed to help your beard retain its natural hydration. That means that it can help reduce dreaded beardruff that men often get after not shaving for a while.
Also, we like that it is a chemical free beard wash, which is really the best type of product to use on your beard. Check out their balm too! It made it onto our best beard balm list and is great for conditioning after shampooing.
Highlights
All natural.
Hydrates and strengthens beard.
Takes away frizziness.
Stops flaking.
Ingredients
Saponified Oils of Cocos Nucifera (Coconut), Olive, Jojoba Seed, and Sunflower Seed Oil, Cyamopsis Tetragonoloba (Guar) Gum, Vegetable Glycerin, Aloe Barbadensis Leaf Juice, Rosemary Leaf, Shea Butter, Citric Acid, Essential Oils.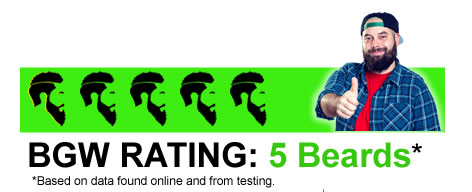 ---
Overview
The Wild Willies brand is another newer line to the industry that is rich in vitamins. This brand was started in 2015 by the The Manskape Co. Even though this is a newer line of products, they are amazing!
We love that this wash gives you an almost tingly scent and feel. The combination of the Peppermint and Eucalyptus essential oils will cause the skin under your beard to tingle and leave it feeling invigorated. Also, lemongrass gives it some hints of citrus. Plus, the fresh, clean aroma of these oils will stay with you for the entire day.
Highlights
Keeps beard soft.
Provides an invigorating feel.
Fresh clean scent.
Stimulates hair growth.
Hydrates skin.
Ingredients
Contains Vitamin E, Peppermint, Eucalyptus, and Lemongrass essential oils (partial ingredient list)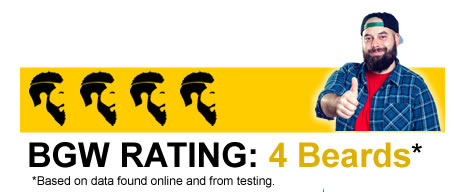 ---
Overview
The Polished Gentleman Beard Growth and Thickening Shampoo is an amazing product on it's own. The large 8 oz bottle is a great size for the price considering you also get the Polished Gentleman beard conditioner as well.
Although the Polished Gentleman website is a bit corny, their stuff works well.
This beard shampoo is made from an organic formula which includes Aloe Vera, Manuka honey, Cehami, coconut oil, Shea butter, and Cocoa butter.
If you want a softer, cleaner and healthier looking beard, this combination will be the perfect choice.
Polished Gentleman is one of the best on our list because we love the way their recipe works so well to provide amazing results!
This beard shampoo and conditioner set also has very high ratings from customers who left review. It has one of the highest ratings we have seen.
We also love the corniness of their company website and product descriptions. Very funny. Take the time to read the product information on their website.
Highlights
Organic ingredients.
Creates big volume.
Thicker and fuller beard.
Gives a smooth feel.
Shampoo Ingredients
Aloe Barbadensis Gel, Cocamidopropyl Betaine, Manuka, Mel Honey, Centipeda Cunninghamii (Cehami), Tapioca Starch, Cellulose Gum, Xanthan Gum, Palmitoyl Oligopeptide, Palmitoyl Tetrapeptide-7, Glycerine, Polysorbate 20, Niacinimide, Biotin, Panthenol (Vit B5), Galactoarabinan, Oat Amino Protein, Serenoa Serrulata Fruit, Mica, Flonac Pearl MF-10C, Salvia Rosmarinus, Eucalyptus Globulus Leaf, Argania Spinosa (Argan), Melaleuca Alternifolia (Tea Tree), and Peppermint Oil, Malus Domestica Fruit Cell Culture, Glycerin, Lecithin, Gluconolactone, Sodium Benzoate, Phenoxyethanol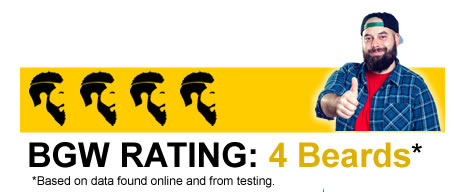 ---
Overview
ArtNaturals, started in 2015, is not specifically a beard care company. They make a wide variety of skin care and beauty products.
Even though they do not specialize in beards, their whole line is very good.
In fact, their natural beard shampoo made it onto our top 15 is precisely because it is a very good product.
This beard shampoo is infused with Argan and Jojoba Oil which are some of the best oils to use on your facial hair.
Highlights
Combats beard dandruff.
Antiseptic to fight redness and reduce inflammation.
Argan oil unclogs pores.
Jojoba Oil protects it.
Licorice root reduces patchy spots.
Ingredients
(partial list) Jojoba and Argan Oil, Rosemary Extract and Blue Cypress Wood Oil, Licorice root extract.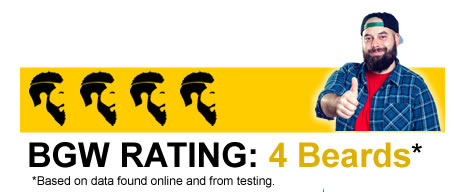 ---
Overview
ZEUS is the ancient greek king of all gods. The name ZEUS, commands attention. That was our first thought as we reviewed the one.
But beyond the cool name, we noticed a very unique ingredient called "Dragon's Blood". Wow, does this actually contain dragon's blood? Maybe the dragon's blood is from a fight between ZEUS and a fire breathing dragon?
Well, the answer is not as dramatic as that, but the use of this ingredient is still pretty cool.
Dragon's Blood or Daemonorops Draco, is a tropical tree-based ingredient used to reduce inflammation and protect skin cells.
Besides the use of Dragon's Blood, ZEUS uses green tea and Chamomile which all act together as antioxidants to prevent beard itch.
The fresh citrus scent will awaken your senses.
Highlights
Stops flaking and dandruff.
Strengthens and restores shine.
Prevents breakage.
Fights beard acne and reduce inflammation.
Ingredients
Water (Aqua), Sodium C14-16 Olefin Sulfonate, Sodium Lauroyl Sarcosinate, Cocamidopropyl Hydroxysultaine, Cocamidopropyl Betaine, Sodium Chloride, Disodium Laureth Sulfosuccinate, Fragrance (Parfum), Sodium Benzoate, Lauryl Glucoside, Coco-Glucoside, Xylitylglucoside, Anhydroxylitol, Glyceryl Oleate, Xylitol, Potassium Sorbate, Sodium Hydroxypropylsulfonate Lauryl-Glucoside Crosspolymer, PCA Glyceryl Oleate, Daemonorops Draco (Dragon's Blood) Extract, Chamomile, Green Tea Extract, Tetrasodium EDTA, Sodium Saccharin, Citric Acid.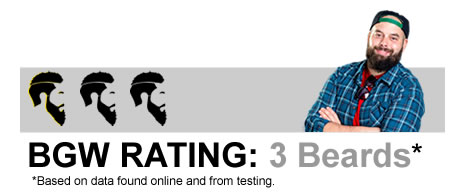 ---
Overview
Mr Rugged is a newer brand and has been around for less than two years. Even though this is a newer brand, their products work very well!
The Mr Rugged beard wash made it to our buyers guide because not only is it a shampoo, but it's a beard conditioner as well.
This two-in-one shampoo conditioner not only allows you to get a clean fresh beard, but to also condition your beard at the same time!
Highlights
Organic Ingredients
Stops beard dandruff.
Controls beard itching.
Fights beard acne.
Softens and strengthens facial hair.
Provides antioxidant protection.
Promotes beard growth.
Ingredients
(not a complete list) includes tea tree oil, aloe vera*, lavender*, jojoba*, and Roman chamomile
*organic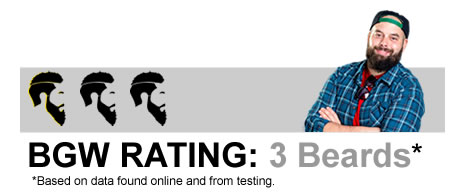 ---
Overview
Billy Jealousy is another great brand that has been around for some time. This company started all the way back in 2004 so they definitely have a long track record for producing high quality mens beard products.
We added Billy Jealousy Beard Wash to our rundown because it's truly a solid product.
This beard wash has also won several awards including the 2017 AskMen, Best Beard Shampoo and the 2014 Esquire Grooming Awards, Best Beard Wash. We like that it is great at reducing beardruff and itchiness.
Read the full review.
Highlights
Softens beard.
Hydrates beard and skin.
Shines and conditions.
Strengthens facial hair.
Controls beard flaking.
Ingredients
Water, Cocamidopropyl Betaine, Decyl Glucoside, Aloe Barbadensis Leaf Juice, Hydrolyzed Soy Protein, Green Tea Extract, Butylene Glycol, Lecithin, Polysorbate 20, Xanthan Gum, Tocopherol, Methylchloroisothiazolinone, Methylisothiazolinone, Fragrance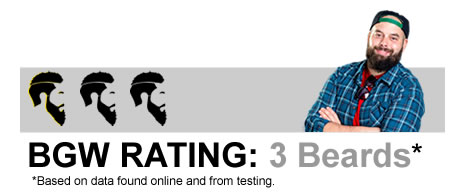 ---
Overview
Although not a well known brand, the Spartans Den beard wash would be a nice addition to your daily routine.
The new "Legend" scent is composed of bergamot, cardamon, lavender, and spices mix with amber and vanilla for a unique scent now found in most beard shampoos.
Highlights
Make beard smell great.
Maintains a silky feel.
Promotes beard growth.
Stops beard itching.
Reduces beard dandruff.
Ingredients
Aqua, Decyl Glucoside, Lauryl Betaine, Sodium Chloride, Xantham Gum, Phenoxyethanol, Aloe Vera, Citric Acid, Benzoic Acid, Dehydroacetic Acid, Shea Olein, Coconut Oil, Fragrance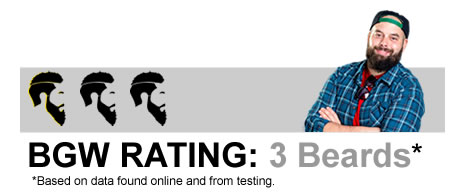 ---
Overview
The Viking Revolution brand has been in business since 2016. Although this company a newbie in the industry compared to others, they do make a great beard shampoo which is why it's on this page.
This beard shampoo has a number of great ingredients including macadamia oil which is great for beard health. It's benefits include moisturizing facial hair, adds shine, and repairs hair follicles.
The peppermint-eucalyptus scent leaves an amazing oh so sweet aroma for many hours after use. We think that the shampoo and conditioner set is a great choice.
Highlights
Helps beard grow better.
Keeps facial hair soft.
Soothes irritation and itching.
Hydrates, cleans, and shines.
Ingredients
(partial list) water, Argan and Macadamia ternifolia seed oil, citric acid,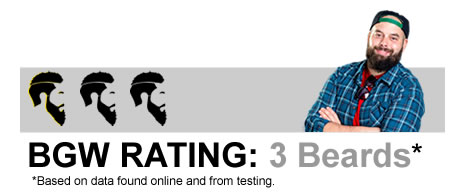 ---
Overview
Being the biggest size on our best beard shampoo list, The Rugged Bros have truly created a great product!
Not only does The Rugged Bros beard shampoo and wash come in a large 16 oz bottle, it's also a 3-in-1 beard product. This means you can wash your beard, head, and face all at the same time. No need for three different products or even a separate conditioning!
The light scent of rose water is good even for those who are sensitive to fragrances.
Highlights
Locks in moisture.
Keeps beard hydrated.
No greasy residue.
Stops itching and face irritation.
Helps stop hair loss.
Ingredients
Water, Glycerin, Sodium Lauryl Glucose Carboxylate, Sodium Cocoamphodiacetate, Lauryl Glucoside, Sodium Cocoyl Glutamate, Glyceryl Oleate, Rose Water, Coco-caprylate, Sesame Seed, Argan Kernel*, Prickly Pear Seed*, and Castor Seed Oil, Fragrance, Cocamidopropyl Betaine, Glycol Distearate, Laureth-4, Polyquaternium-7, Benzyl Alcohol, Coco-glucoside, Tetrasodium EDTA, Dehydroacetic Acid, Citric Acid, Benzyl Salicylate, Limonene.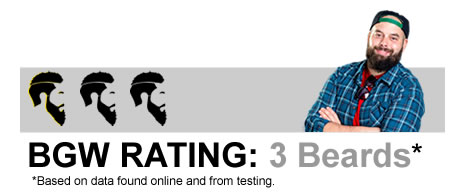 ---
Overview
The Grave Before Shave Beard Wash comes in a 6 oz tube. While not as large as some competing products, we feel this product deserved to be one of the best shampoos simply because it works great!
It's infused with argan oil which is amazing to use on your beard. It is rich in vitamins A and E, contains fatty acids, and has moisturizing and anti-inflammatory properties.
The Fresh Old Time Barbershop scent is very soothing and not overpowering.
This beard wash shampoo is sold by a company called "FISTICUFFS LLC" who own the Grave Before Shave brand. While the website is not very well done with very little information on the site, they do make very good products.
Although you may want to give this beard wash a try and add it to your beard grooming routine, there are a few things we don't like. First of all, it has artificial colors added. And secondly, we think it is better off without some of the added chemicals. There are better options.
Highlights
Keeps hair hydrated.
Works on all hair types.
Ingredients
Water, Sodium Lauroyl Methy Isethionate, Sodium C14-16, Olephin Sulfonate, Cocamidopropyl Betaine, PEG-200 Hydrogenated Glyceryl Palmitate, PEG-7 Glyceryl Cocoate, Glycol Distearate, Fragerance (Parfum), Cocoyl Monoethanolamine, DMDH Hydantoin, Polyquaternium-10, Tocopherol, Olive Fruit Oil, Cetyl Alcohol, Argan Oil, Iodopropynyl Butylcarbamate, Tetrasodium EDTA, Citric Acid, Blue 1 (CI#42090)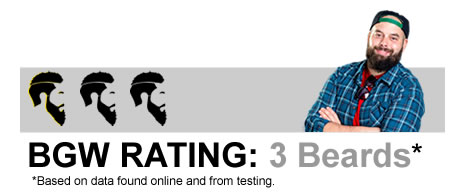 ---
Overview
The Beardsley brand has been around since 1993. The Beardsley and Company has a long track record of providing high quality. This is no different with their Beardsley wild berry beard shampoo. It truly is a high quality product.
This has a very pleasant wild berry aroma. It's sure to leave your beard smelling amazing.
But unfortunately, it contains parabens, which are dangerous. Choose something higher up if you care about your health.
Highlights
Leave beard feeling fresh and clean.
No aftertaste. (who eats this anyway!)
Ingredients
Water (Aqua), Aloe Barbadensis Leaf Juice, Sodium C14-16 Olephin Sulfonate, Cocamide DIPA, Decyl Glucoside, Cocamidopropyl Betaine, Vitamin E Acetate, Polyquaternium-10, Chamomilla Recutita Flower/Leaf (Chamomile), Parfum, PEG-16 Macadamia Glycerides, Citric Acid, Glycerin, Sodium Saccharin, Methylparaben, Panthenol (Pro-Vitamin B5), Sodium Benzoate, Potassium Sorbate, Propylparaben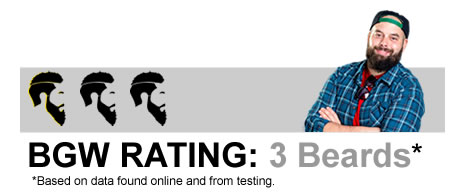 ---
Overview
Bluebeards has been around since 2005 so they're known for producing high quality beard care products.
We like that the natural peppermint oil and menthol create a truly invigorating feel and make your face look and feel alive and fresh. Also, this original beard wash and shampoo comes in a bit larger 8.5 fl oz bottle which we really like.
On the other hand, we hate that it contains SLS. SLS is a potentially dangerous ingredient that we would never use ourselves, and for that reason, we don't recommend it to you.
Highlights
Add shine to beard.
Soothes skin.
Provides cool calming effect.
Softens and conditions beard.
Ingredients
Water/Aqua, Sodium Laureth Sulfate, Cocamidopropyl Betaine, Peppermint Oil, Wheat Amino Acids, Glycol Stearate, Menthol, Sodium Chloride, Glycerin, PEG-150 Distearate, Hydroxypropyl Methylcellulose, Polyquaternium-10, Disodium EDTA, Citric Acid, Methylisothiazolinone, Methylchloroisothiazolinone, Limonene, Linalool, Blue 1 / CI 42090, Yellow 5 / CI 19140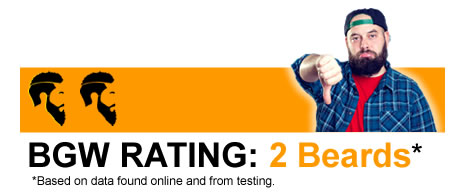 ---
BEARD SHAMPOO VS REGULAR SHAMPOO
You've probably heard that "a clean beard is a healthy beard." There is a great deal of truth to this adage. However, cleaning your beard with the wrong products may indeed make your beard "clean," but it won't necessarily be making it healthy. If you want to achieve both, the right kind of cleanser is crucial.
The Difference Between Beard and Head Hair
First off, the differences between beard and regular shampoo can only really be understood with regard to the differences between beard hair and the ones on your scalp. Individual hairs, whether facial or otherwise, grow from a single hair follicle. They all go through similar stages of growth and grow at about the same rate (approximately half an inch per month).
However, if you have a beard, you know from experience that it looks and feels very different from the ones on your head. That's because it is inherently different. The hair on your beard is also known as androgenic, and it is associated with hormones (which is why it shows up much later in life). Individual strands on your beard are thicker than others. It is coarser in texture and tends to kink and curl in more random directions. It is rarely perfectly straight.
Proper Cleaning of Beards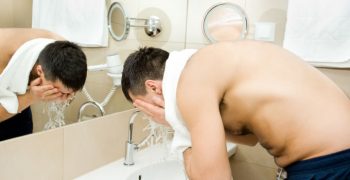 Since the two types are so different, it makes sense that they need to be cleaned differently. The finer, thinner hairs of the head are kept lubricated by sebum, a natural oil produced by sebaceous glands which surround hair follicles. Sebum keeps the hair soft and supple and provides a waterproof coating over the shaft. It also helps to keep the scalp skin soft and flake-free.
Sometimes sebaceous glands get over-productive. When this happens, the hair on the head may appear excessively greasy. Regular shampoo contains ingredients which combat this problem, stripping away excess oil and leaving it looking and feeling cleaner.
Facial hairs also have sebaceous glands. However, because they are so much thicker and coarser than the hairs on the scalp, they rarely get overly-oily. In fact, they are more prone to dryness, as is the skin underneath.
Using regular shampoo, which is designed for stripping away excess oil, is usually too harsh for the beard. If used, it would strip away too much oil, which would leave a mane that looks and feels like straw. Also, you would get skin that itches and flakes underneath.
Beard Shampoo as Part of a Grooming Regimen
Shampoos made specifically for the beard do not include the harsh, oil-dissolving ingredients that are in most shampoos that are in your home. One of the harshest of these are sulfates. Sulfates, though effective for an oily scalp, are much too harsh for the beard and will leave it feeling overly dry.
Cleansing ingredients which are much better for beard hairs include potassium (potassium cocoate or potassium oleate), panthenol (which binds to the hair and seals in moisture) and lauryl betaine. Natural ingredients derived from plants are also added to beard shampoos to provide extra moisture and keep hairs from being stripped of their own natural oils.
Your beard will get clean AND look and feel healthier when you use a shampoo formulated specifically for the beard. However, you may notice that your rowdy hairs still need some help keeping soft. So, it is best to follow your washing routine with a top beard conditioner.
You should also use a high quality beard balm or beard oil is an excellent way to finish your beard grooming regimen. They act in the same way a leave-in conditioner works on head hair. It doesn't get rinsed away, so it is able to provide round-the-clock moisture and prevent dryness to both the hair and the underlying skin. Your beard and those who get close to you will thank you for it.
If you are looking for a convenient way to get multiple products, check out our list of the best beard grooming kits to get some extra value.
IS IT OK TO WASH MY BEARD EVERY DAY?
You should wash your face and body everyday, but not your beard. Any hair can get dried out if you wash it every day. So, it's important to note that you should not wash your beard every single day either.
We suggest washing your beard 2 to 3 times a week to help get rid of dirt and food particles. This allows your beard to remain hydrated, while still getting cleansed. Some people wash their beards in the shower, while others do it afterwards. Either way, make sure to rinse it completely afterwards.
Washing more often can strip your beard of natural oils can cause it to get dry, coarse, and itchy. Also, using things like beard combs afterwards can help to get rid of dead skin which can build up from not shaving.
CAN YOU USE HAIR SHAMPOO ON YOUR BEARD?
Although many men do use face soap or standard shampoo on their beard, this can cause it to dry out. This is especially true for men who have wiry and unruly beards. Beard wash typically uses certain natural ingredients that are good to add the oils back into your beard that may be lost when washing with other types of soaps. It's also good to finish by using a good beard oil or beard balm.
[su_note note_color="#F9E5E5″ text_color="#000000″ radius="1″]Beard Growth World is a participant in the Amazon Services LLC Associates Program. If you decide to purchase something through any of our links we get a commission.[/su_note]