If you are looking for an all-in-one set for your beard grooming needs, then this article about the best beard grooming kits is for you.
Beard kits are an excellent purchase for a variety of reasons. These simple and convenient kits save you time, and in the end, they save you money too.
We did all the hard work for you and have separated the quality beard grooming kits from the stuff that belongs in the garbage.  You can be assured that the things that appear on our top lists are from reputable companies with premium ingredients that are good for your beard and for your health.
With these all-in-one packages, your beard will be looking its best in no time. Without further due, let's look at the finalists.
BeardGrowthWorld.com is a community funded website. This post contains affiliate links. If you buy something from one of the links, it won't cost you anything more, but we may earn a small commission. We do our best to only recommend the best products for you.
---
Top 7 Beard Grooming Kits – Quick Summary
Product
Contents
Price


BEST OVERALL
#1 Maison Lambert





Beard Shampoo


Beard Oil


Beard Balm


Mustache Wax


Wooden Comb


Body Soap


Wooden Cigar Case



$$


#2 Jack Black





Beard Wash


Beard Oil


Shaving Cream


Comb



$


#3 Honest Amish





Beard Oil


Beard Balm


Beard Wax


Wooden Comb



$


#4 Zeus





Beard Shampoo


Conditioner


Beard Oil


Beard Balm


Wide Tooth Comb


Mustache Comb


Boar Pocket Brush


Boar Palm Brush


Scissors


Case



$$$$


#5 Shea Moisture





Beard Wash


Leave-In Conditioner


Beard Oil


Beard Balm



$


#6 Badass





Beard Oil


Beard Balm or Wax


Comb


Boar Bristle Brush


Scissors


Travel Case



$$


#7 Billy Jealousy





Beard Wash


Leave-In Conditioner


Beard Oil



$
---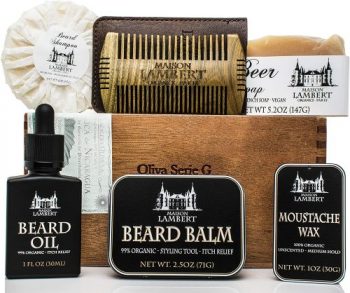 Overview
If you are looking for the best of the best, the creme de la creme, then look no further. This ultra-premium beard grooming kit delivers quality and value, plain and simple. If we had to describe it in one word, it would be "classy".
If you haven't heard of Maison Lambert before, you are missing out. They are known for only including the best ingredients in their product line. Most of their ingredients are organic, and it is noted on each individual item what percentage of it is organic.
Also, they only scent their things with essential oils. So you don't have to worry about toxic perfumes and harmful chemicals like parabens. Everything seems to be scented just perfectly. The smell is not overpowering, and their scent blend is manly and appealing.
On top of all that, they are environmentally conscious. All of their products are cruelty-free and never have been tested on animals. Companies that go above and beyond get bonus points here at BeardGrowthWorld. If a company doesn't take any shortcuts, it usually is a good sign.
In the end, customers love this beard grooming kit. Their beard shampoo was ranked #2 on our best beard wash list. It also includes beard balm, beard oil, a mustache wax, a wooden beard comb, and a cool cigar box to store it all. You can tell that thought goes into everything they do.
We are sure you will love it as much as we do.
Highlights
Free of Parabens, Sulfates, Dyes, Toxins, artificial fragrances, petroleum byproducts
Smells incredible
Cigar box case is a nice touch
Contains everything you need for complete beard grooming
Free body soap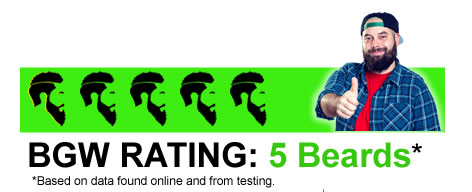 ---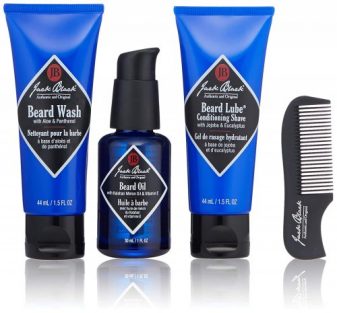 Overview
Jack Black is a superior skincare brand, and they sure know how to make great beard products. This beard grooming kit is oriented for the man who is looking for conditioning instead of styling power since it doesn't contain a wax or beard balm.
What it does include is a fantastic beard oil, beard wash, and shaving gel. This way, you have everything you need to cleanse, condition, and soften your facial hair. We especially love the beard oil, and it has appeared at or near the top of several of our review pages, including best beard oils and conditioners. Finally, to cap it all off it includes a beard comb.
All Jack Black products are carefully crafted using the finest ingredients. That means that you won't find any harsh surfactants like sulfates in their products. Many men are proud to say that they have been using Jack Black beard care since they started in 2000.
Highlights
Safe for sensitive skin.
Luxury Skincare brand.
Conditions beard and skin to stop itching and flakes
No styling products in this grooming kit.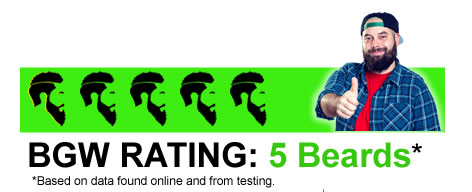 ---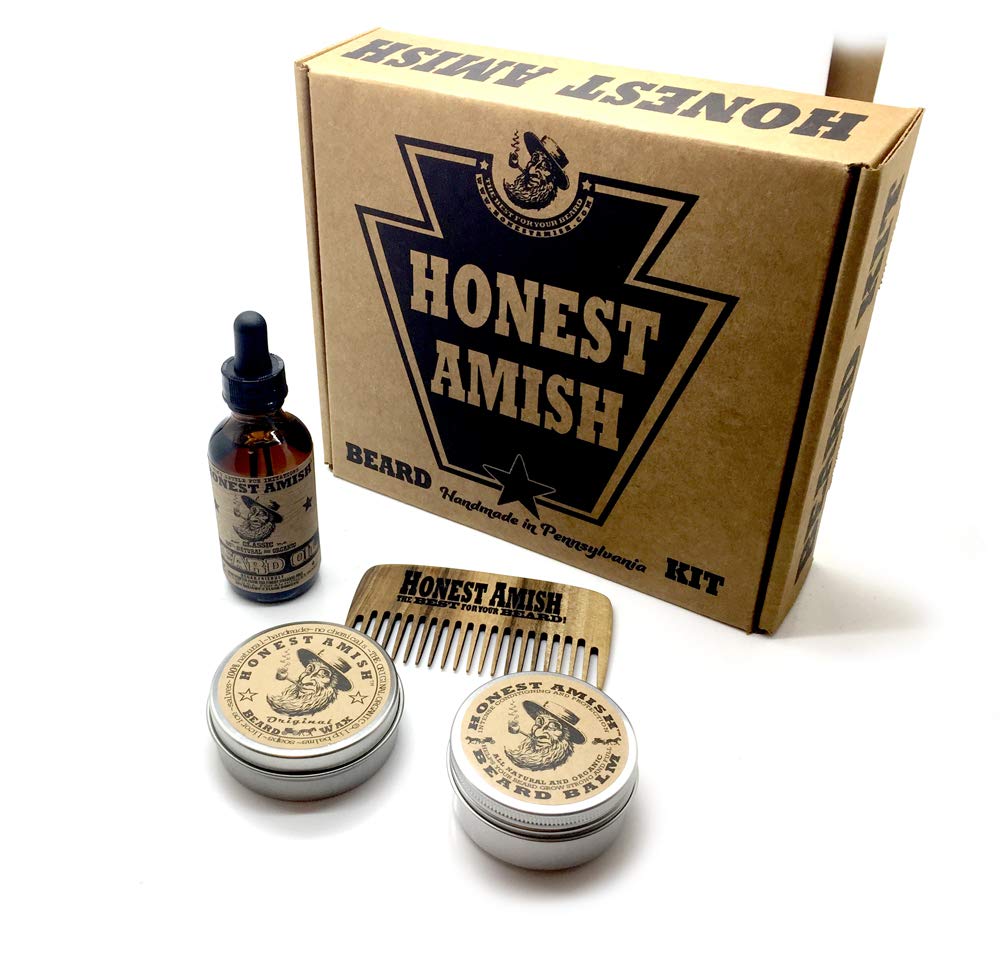 Overview
Honest Amish is always ranked high in all of our "best of" posts. That is because their recipe for success is simple. Deliver high-quality grooming products with great ingredients at an incredible value.
Since we ranked both their beard balm and beard oil number one, that is the reason why this beard grooming kit is here. In addition to those two products, it also includes a wooden beard comb and wax.
This beard grooming kit wasn't ranked higher because it did not come with a beard shampoo or case. But at the great price that this grouping sells for, you can add a beard shampoo, a brush with boar bristles, and a travel case separately and still not pay a ton.
With mild scents and all-natural ingredients, you can't go wrong with Honest Amish.
Highlights
All-natural and organic ingredients with no toxic chemicals
Contains beard balm and wax to tame flyaways and style beard.
Conditions and softens rough beards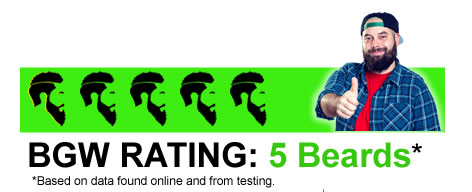 ---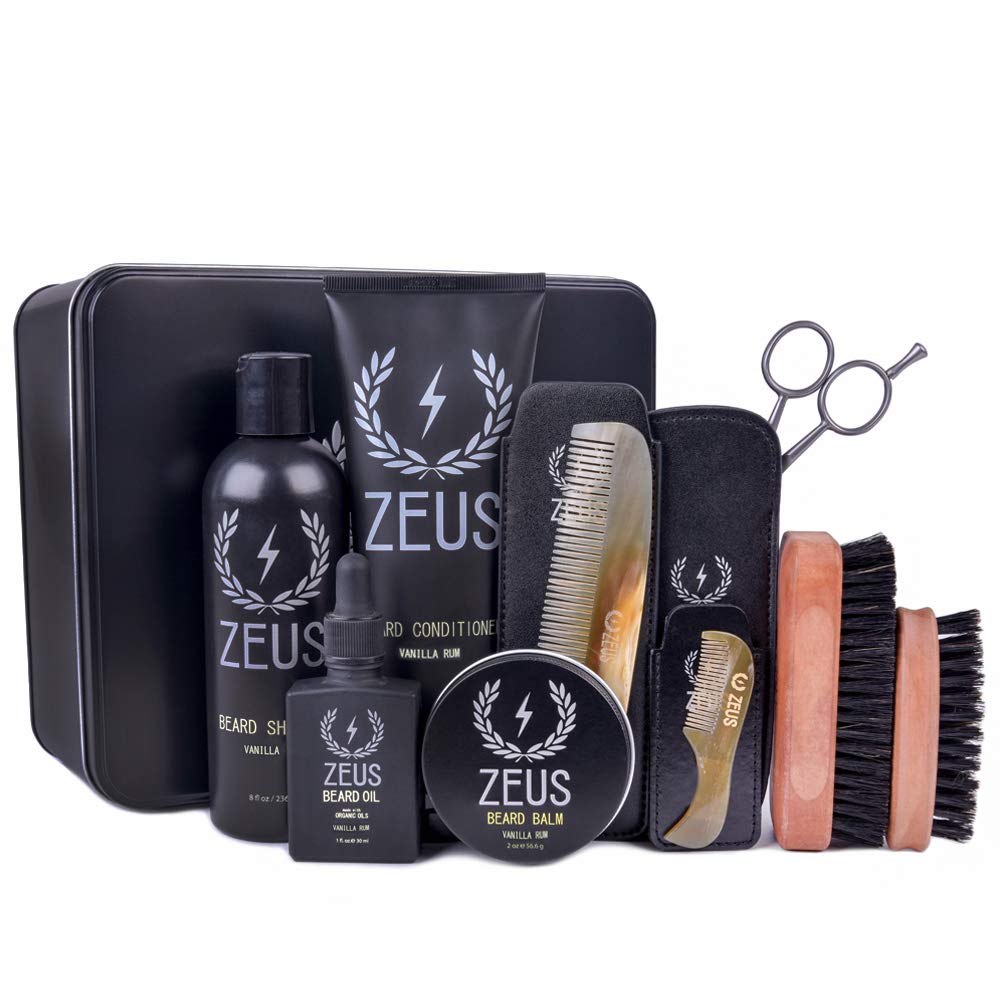 Overview
This complete grooming kit from Zeus is our favorite choice for guys that looking for everything in one purchase.
With a shampoo, beard conditioner, and balm, you can be sure that your beard is clean and conditioned no matter where you go. They also stepped up the beard oil a level in this package and included their organic beard oil. This selection will ensure that you have a soft and styled beard in any location.
In addition, this set goes even further and includes 2 boar bristle brushes, a wide tooth beard comb, a mustache comb, and stainless steel grooming scissors.
Although it comes in three different scent options, we particularly like the vanilla rum package. One thing that we did not like is that we would have preferred it to come with a travel case instead of a gift box. Aside from that, it is a really nice set.
Highlights
Complete set has everything you need for your beard grooming routine.
Contains beard balm for styling.
Hydrating ingredients protect and nourish beard.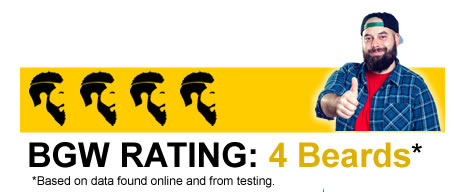 ---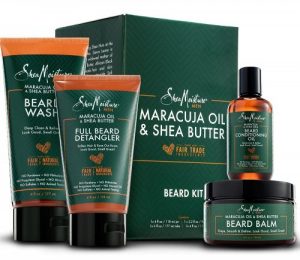 Overview
Shea Moisture is a great company with a solid reputation for making skin and hair care products. All of their products are sulfate, paraben, and cruelty-free to naturally hydrate, clean, and style your facial hair. On top of that, all the ingredients they use are fair trade certified.
In this beard grooming kit, you will get a beard wash, beard detangler, beard balm, and beard oil.
You will never have to worry about slick and oily beards when using Shea Moisture because everything absorbs quickly. This way, you can be sure that your beard is properly nourished so that you can have a soft and detangled beard.
Finally, with ingredients like shea butter, maracuja oil, and argan oil, there are plenty of vitamins and essential fatty acids. These help to give your beard and skin all the nutrients it needs to radiate natural health and shine.
Highlights
Filled with antioxidants to restore shine.
No harmful ingredients.
Makes beard frizz-free.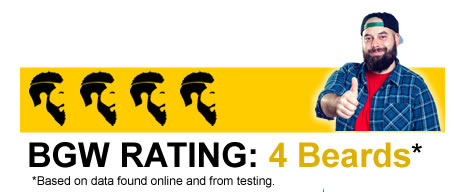 ---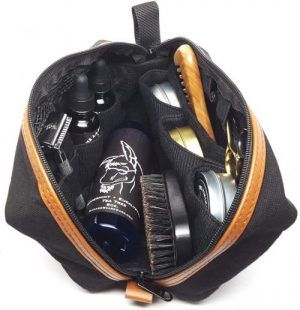 Overview
This travel package from Badass Beard Care is another great option for guys who are moving around a lot. We especially like the convenient Dopp case that comes with it, as well as the boar bristle brush and scissors. It makes it an excellent styling and trimming kit.
Aside from that, this package can be customized. So, after selecting the product, there are many choices to be made. If you like the idea of customization and upgrades, then you will be a fan of this package. Unfortunately, we found it a little complicated and would rather have had fewer choices.
First off, you get to select your choice of scents. As we have mentioned in our previous posts, we are partial to the Ladies Man scent. They say that it has aphrodisiacs inside, but we just like the aroma.
Secondly, you get your choice of beard balm or wax. Depending on the level of hold and style you are looking for, you can select accordingly. Their wax was number one on our best beard wax list, so we are partial to that. Check out the full list here.
Finally, you have to select the type of boar bristle brush, beard comb, and scissors you want. There are base models in all of these categories, and then there are higher level upgrades to choose from.
In summary, although buying this can be a little complicated, we think that Badass makes some really great grooming products. Also, since this beard grooming kit includes scissors, a comb, and a brush, it is definitely more oriented to the person who likes to style their beard.
Highlights
Great package for styling and shaping beards.
Fully customizable.
Awesome carrying case.
Made by bearded veterans.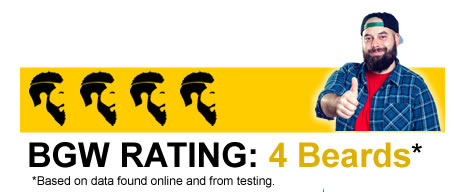 ---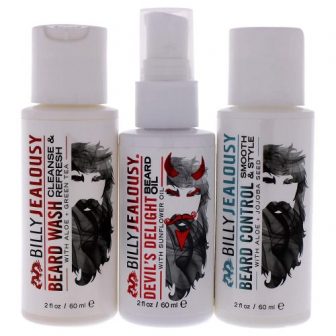 Overview
Inside Billy Jealousy's wicked beard trio, you will find a beard wash, beard conditioner, and beard oil. This simple beard grooming kit contains everything you need to clean, nourish, and strengthen your beard.
Your beard will reach new levels of softness with nutrient-rich ingredients like aloe vera, green tea, and jojoba oil. Since Billy Jealousy has been in the men's grooming business since 2004, you know that they have a reputation for beard care products that work.
All in all, we think that these award-winning cruelty-free formulas deserved a spot on our top 7 list. Although we believe there are more complete packages with better ingredients, if you are looking for a simple beard care kit, this could be the option for you.
Highlights
Simple grooming kit to stay groomed on the go.
Award-winning formulas.
Strengthens and tames unruly facial hair.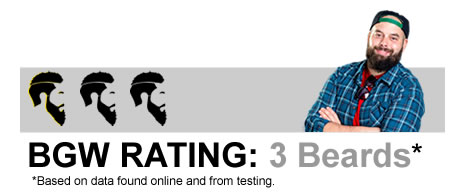 ---
Why Buy a Beard Grooming Kit?
Some men like to customize their grooming items and buy products from different companies, and if that works for you, that's awesome. But if you are thinking about purchasing a beard grooming kit, here are some reasons why it is a good option.
1. Value
Purchasing a prepackaged beard kit saves you money as opposed to buying each item separately. So, beard grooming kits are great if this is your first grooming purchase. Also, they often throw in some cool things like travel cases, soaps, and combs.
2. Matching Scents
One issue that comes up when you buy from multiple companies is that you have conflicting scents. Sometimes you can get lucky if some options are unscented, but the last thing you want is a bunch of different odors on you that clash. For instance, if you have a vanilla rum beard oil and a citrus mustache wax, they may not work well together.
Buy buying a beard kit, you know that all your scents will match. Then, you can be sure you will smell incredible.
3. Great For Gifts
Beard kits make a great gift. Instead of debating on single products, bearded men love an all-in-one solution. Maybe they are new to beards and aren't aware of all the products that can level up their beard game. Or it can be an opportunity to try new things.
Many men with beards have fallen in love with products that they discovered in a beard set, and it is something they would have never known about if someone hadn't given it to them as a gift.
4. Perfect for the Man on the Go
Are you someone who travels a lot? Someone who is in and out of hotel rooms? Then a beard kit is perfect for you.
Beard kits make traveling with a beard simple. There is no need to remember to take the beard oil or the wax. With a convenient travel bag you, will be sure that you always have all your essential grooming items to keep your facial hair in top shape.