If you are looking for the best beard oil, then you have come to the right place. Searching through the maze of beard oils to find the right one can be time consuming. We have done the research and tested the products to give you a clear and concise buying guide.
Finding the best beard oil can often be a struggle if you don't know what to look for or if you've never tried the product before. In this article, we will go through the strong points of each beard oil, the ingredients, and the scents. This will help you make a better buying decision so you know you are getting the absolute best.
Before we get into the specifics, we want to make it clear that these beard oils are for conditioning and style, so you can have a healthier and better looking beard. If you are specifically looking for a beard growth oil, then check out our list for the best beard growth cream and oil.
BeardGrowthWorld.com is a community funded website. This post contains affiliate links. If you buy something from one of the links, it won't cost you anything more, but we may earn a small commission. We do our best to only recommend the best products for you.
---
TOP 10 BEST BEARD OILS
---
Overview
Honest Amish is one of the premier grooming brands out there, and they have several products on our top lists. That is because they know what they are doing when it comes to beards, and have been doing it since 2012.
Not only do their products work incredible, but they only use the absolute best ingredients. All of their products use 100% all-natural, sustainable, and organic ingredients.
This classic beard oil is carefully crafted from seven different oils for conditioning your skin and beard, plus an additional blend of seven essential oils to make up the scent. But don't get confused, the scent is a very light scent and not at all overpowering.
Most of the beard oils on the market only have two or three ingredients, usually argan oil and jojoba oil. That is because they don't know what they are doing. Honest Amish classic beard oil combines them with things like pumpkin seed and avocado oil. All the ingredients work in harmony to promote hair growth, reduce flaking, and improve your beard health.
What's also nice about this beard oil is that it is the same scent as their beard balm. A lot of people that are looking for a little more hold have found a lot of success using a little beard balm after applying the beard oil. If you are doing that, you don't want to have conflicting smells on you. Also, Honest Amish makes a great beard grooming kit that will save you money if you are buying multiple products.
Men also love that this beard oil comes in a 2-ounce bottle, which makes it the best overall value on this list.
For every reason we listed above, this beard oil is our number one choice.
Highlights
All-natural and organic.
Provides minerals, vitamins and antioxidants to nourish and eliminate irritation.
Improves conditioning, hair growth, and skin health.
100% satisfaction guaranteed.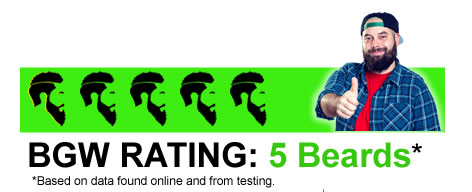 ---
Overview
If you are looking for a luxury beard oil, look no further.
Jack Black beard oil is filled with certified organic natural oils, potent antioxidants, and vitamins.
This ultra premium formula is one of the only ones we have seen that uses Kalahari melon oil from the Kalahari region of Africa. On top of this, there are several other unique ingredients such as brown algae, Vitamin E, and Carrot Extract which make this truly one of a kind.
These exclusive ingredients are carefully selected and serve to protect the skin from free radicals and environmental pollutants that damage the skin.
Also, Jack Black's also has plum and marula oil to soften brittle and dry facial hair and restore its natural shine. These fast-absorbing oils provide tremendous conditioning and moisturizing benefits. When using this beard oil as part of a hair care routine, it is easy to achieve that soft and full look.
Finally, people like that it is lightweight and only has a light botanical scent. We love this product so much that it made to the top of our best beard conditioner list.
This company continues to make high quality beard grooming products and has for over 17 years. They have a proven track record and it shows.
Read the full review here.
Highlights
Helps with achieving a healthy looking beard.
Reduces itchy and flaky skin.
Cruelty-free Vegan.
Helps to soften beard.
Certified Organic Oils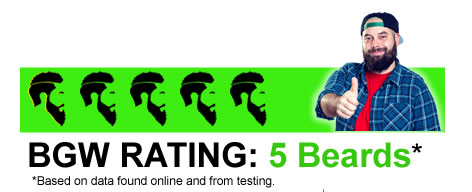 ---
Overview
The Gentlemen's Beard premium beard oil is the first fragrance free product on our top ten list. Oils without scent come in handy when you are using aftershave and colognes, or even other beard products. If you mix different aromas, they might clash and smell weird.
Continuing on, this leave in conditioner is just an incredible product. It is 100% natural and has organic and non-GMO ingredients. It is known for its ability to make beards more manageable and less frizzy. Within minutes of application, you will notice that your beard is less course and is softer.
What makes this beard oil unique is that it contains evening primrose oil. This special oil helps to nourish the skin under your beard and hair follicles to soothe itch, dryness, and inflammation. That works well in combination with the extra virgin coconut oil which is high in vitamins.
We included The Gentlemen's Beard beard oil into our list because not only do men feel it's a product that works well, it also has extremely high ratings from consumers. It would make an excellent addition to your personal grooming routine.
Highlights
Makes your beard more manageable and less frizzy.
Improve beard shine/health.
Absorbs quickly.
Less beard dandruff and itching.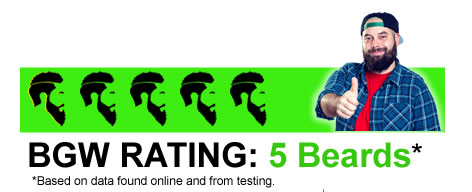 ---
Overview
The Badass Beard brand has created an amazing beard oil with their line of "The Ladies Man" scents. Most people describe it as a citrus vanilla smell.
This line of beard oils have very nice scents that drive women crazy. According to their website, it contains natural aphrodisiacs that will help attract the opposite sex.
Besides the effects of the aphrodisiacs, this beard oil does work great to soften facial hair and to hydrate skin. It also helps to tame flyaway hairs. One of the less common ingredients in this product is rosemary oil. Rosemary oil is great for helping with circulation and could even stimulate hair growth.
Men also love that this beard oil is made in the USA by bearded veterans and are made with all organic food grade ingredients.
Highlights
Softens hair and hydrates skin to eliminate beard dandruff
Promotes healthy growth.
Made with natural aphrodisiacs that help attract the opposite sex.
Creates a fuller appearance.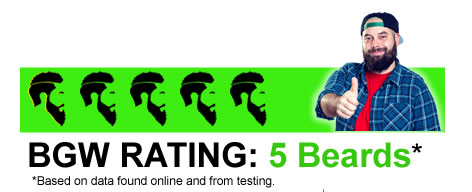 ---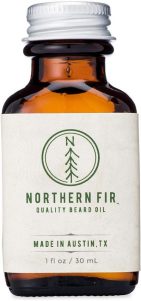 Overview
The Northern Fir line of beard care products is relatively new to the industry, but they are quickly making an impact. That is because they are producing ultra premium products that are handmade and sourced with only the best ingredients.
Although a bit pricier than many of the other beard care lines on the market, we feel that many of their products are worth the price, especially this beard oil. Unlike other brands, they only use unrefined jojoba oil and argan oil. Also, they make sure that all the ingredients are 100% natural and come from vendors that practice sustainable and responsible agriculture.
As for the product itself, the oil is very lightweight and will not leave your beard feeling greasy. Also, similar to their beard balm, the smell of the beard oil is incredible. It was inspired while hiking in the Appalachian mountains and is made from juniper berries, black pepper, and cedarwood essential oil.
Finally, what matters is that it actually works. This beard oil contains Vitamin E, to help to restore shine and softness for a frizz-free beard. And it also will put an end to the dreaded beardruff, which will stop the itching and flaking so you can relax.
This is an top notch grooming company with high quality ingredients, and once you try it, we are sure you will fall in love with this premium beard oil just like we did.
Highlights
Conditions and softens beard hair.
Keeps facial hair shiny.
Lightweight and won't weigh down beard .
Stop itch and flaking.
Smells like you just hiked through a forest.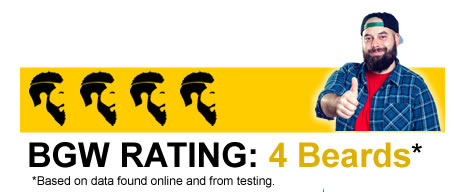 ---
Overview
The Mountaineer brand is a very underrated beard care brand. We love their products and just had to add this beard oil to our list.
This conditioning oil is made with all natural ingredients, one of them being castor oil. Castor oil is great for helping hair to grow in thicker and healthier.
With hints of citrus and spice, this beard oil has a warm clove scent that is truly amazing. One of the essential oils is eucalyptus, which is one of our favorites.
In the end, this beard oil absorbs quickly and gives your beard a smooth, soft, subtle shine that women love.
Highlights
Comes in a 2-ounce bottle for improved value.
Keeps beard sleek and hydrated.
Easily grow a beard without itching or flaking.
Prevents beard dandruff.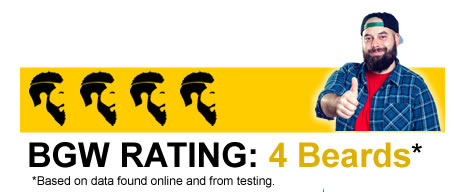 ---
Overview
This is a non alcohol and natural beard oil that restores and protects. It eliminates flakes and helps with untangling hair.
Not only that, but by using it daily it will help your beard grow in thick.
Prophet and Tools beard oil is super easy product to use. As an added bonus, it also comes with a beard care book and beard comb for improving results.
Highlights
Can help with styling your beard to make it look perfect.
The best bundle for value.
Certified award winner.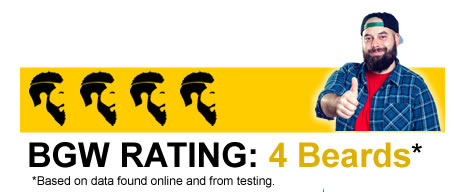 ---
Overview
This Grave Before Shave beard oil is their amazing Bay Rum scent, which is inspired by pirates.
The coconut after tones and rum scent of this beard oil will help you with hydration and make you feel as though you are in vacation in the Caribbean. One ingredient in this formula that is different is tea tree oil. Tea tree oil is an antifungal which can help prevent flaking and itching with daily application, thus making your beard grow in thicker and more full. It also contains sweet almond oil.
The natural oils will help give you a good beard.
We love that you get extra value in this 4-ounce bottle and do not need to restock as often.
Highlights
Keeps beard healthy and shiny.
Has coconut and rum scent.
Provides conditioning for mustache and beard.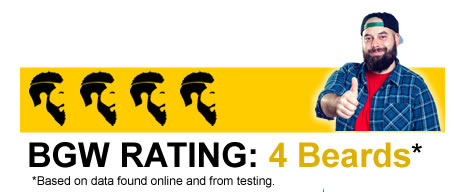 ---
Overview
This beard oil from Ranger is highly rated for a few reasons.
First, it soaks in quickly to treat and calm dry, coarse, unruly and wild beard hair. Secondly, it is fragrance free, which means that anyone with sensitive skin will have no issues with this oil. And finally, it is vegan friendly, not tested on animals, and doesn't contain any fillers.
But we had one problem with it. Mainly, it only contains two ingredients which are jojoba oil and argan oil. Although argan oil is great for beard care, we like added combinations.
This one is super basic and doesn't contain the variety of nutrients and vitamins that the other options on our list have. You are almost better off buy those oils separately and putting them on your beard.
All in all, although it works, we think there are better choices above.
Highlights
No fillers, no fragrances.
Eliminates itching and beardruff.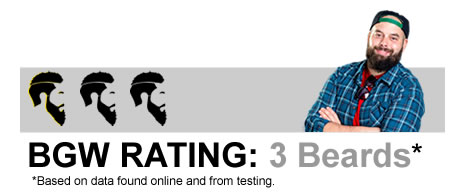 ---
Overview
The Bossman beard oil made it into our buying guide because it's a very unique product. It claims to be the world's first jelly beard oil!
This jelly-like consistency is much thicker than normal beard oil, and comes that way from shea butter. This allows the product to adhere to the beard and provide better coverage.
It comes in 4 different scents so you can choose which works best for you. We like the magic scent the most, which contains sandalwood oil.
It also comes in a larger 4 oz bottle which makes this beard oil an even better value than some of the other ones on the market, plus it lasts longer.
One of the things that dropped its rating is that it has soybean oil as an ingredient. Soybean isn't one of the healthiest choices to have as the base of the product, they would have been better off with a different choice.
Highlights
Help tame unruly and wild hairs.
Warm and inviting scent.
Thicker consistency than other beard oils.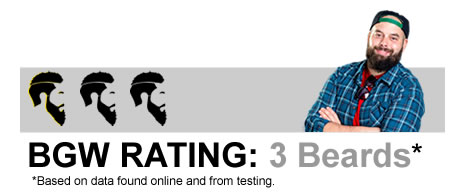 ---
How We  Chose The Best Beard Oil
We take our job of finding and recommending the best products seriously at BGW. By taking the time to do in-depth research on each product and the company, we feel confident that what we portray is accurate and relevant.
In terms of ranking, we judge each product based on a few factors.
First, we care about the ingredients that are in each beard oil. Since this will be going around your mouth and absorbing into your face and skin, we want to ensure that we are recommending things that are non-toxic. Health is something that is very important to us. Because of that, we give prevalence to oils that contain all-natural and organic ingredients.
Secondly, we like companies with a good reputation that are contributing to a greater good in the world. Things like sustainability and animal welfare are things that we take into consideration.
Third, we look at the value. We understand that different products are priced differently. But if one is more expensive that the other, is it for good reasons? People work hard for their money, and we think that if you buy something, it better be worth it.
Finally, does it actually work? What good is buying something if it doesn't do what it claims it does? We look at all the customer reviews and incorporate our own tests when possible to make sure the things we recommend do the job.
How to Use Beard Oil
Using a beard oil is pretty easy. It is best to apply it after taking a shower or using a beard shampoo. Once your beard is dry or damp, place a small amount of oil into your hand. Then rub them together to spread it around into your fingertips.
You want to make sure that you get the natural oils deep into your skin under your beard. After rubbing it into the skin, start working the oil throughout the beard and into the individual strands.
Finally, at the end you can use a beard comb or beard brush to get the oil to distribute evenly if you wish.
There are many benefits of beard oil, but keep in mind that a beard oil is mostly for conditioning the skin and the beard. For that reason, it won't have any hold. If you are looking for hold to style and shape your beard, you can apply a beard wax or balm afterwards.
Beard oil can often have an effect for more than 24 hours when placed in after a shower. It should be used every day for the best results to give you that fresh look.
F.A.Q.
How long will it take before the product is gone?
If you require 6 drops a day the product will last on average for 3 months depending on the size bottle you buy.
Does beard oil expire?
Beard oils can typically last for up to 1 year or longer. Be sure to store beard oil with the cap tightly closed and in a cool dry place to make it last longer. When a beard oil expires it typically just means it's not quite as effective.
Can I use it as an aftershave?
The scents that are included with beard oil can be very useful for aftershave. Many of them are a blend of essential oils which have many benefits. Applying beard oil after you shave can be a great way to moisturize hair and your face. Using Beard Oil as an after shave can also give a pleasing scent with a moisturizing approach for your skin.
[su_note note_color="#F9E5E5″ text_color="#000000″ radius="1″]Beard Growth World is a participant in the Amazon Services LLC Associates Program. If you decide to purchase something through any of our links we get a commission.[/su_note]