Beards are boss, and a groomed beard is a sexy beard. With their current popularity has come an explosion of new beard products. Because of this, it is easy to get overwhelmed by the amount of choices there are.
We have put in the effort to test, inspect, and examine these products to help you decide which is the best beard balm for you.
In this article, you will find unbiased reviews and rankings of the best balms we have found. Then, if you are looking for more information we will go over all the details in our definitive guide to the best beard balms.
BeardGrowthWorld.com is a community funded website. This post contains affiliate links. If you buy something from one of the links, it won't cost you anything more, but we may earn a small commission. We do our best to only recommend the best products for you.
---
THE BEST BEARD BALM- TOP TEN LIST
---

Miscellaneous info
Not recommended for people with nut allergies.
Description
Honest Amish Beard Balm leave in conditioner is made of 100% organic ingredients. This includes virgin argan, virgin pumpkin seed, avocado, almond, and apricot kernel oil, plus butters of shea, cocoa, kokum and aloe. All butters and oils have been infused with different botanicals. Not only does this give the balm a pleasant scent, it also helps strengthen hair.
This balm has been formulated to soften the rough, coarse hairs of the beard. It will also condition the skin underneath. It functions as both a treatment and a prevention of itchy and flaky skin.
Review
Honest Amish Beard Balm is one of only a small percentage of beard balms on the market that is completely organic and vegan. This is why we listed it at number one.
We also love the fact that it is priced affordably. You might not expect that from a beard balm of this caliber. Ounce for ounce, you end up with a superior product that doesn't gouge you in the wallet. Also, if you want even more value, check out their beard grooming kit.
Another thing that sets this balm apart from competitors is what's inside. The majority of others on the market contain three to five ingredients. It's impressive that this grooming product makes use of so many exotic oils, butters and botanicals.
We also appreciate the fact that it is guaranteed. You can get your money back in full if you decide you don't like the product, for any reason. (We think you won't want to!)
Finally, our number one beard balm is 100% organic AND vegan. It is difficult to find a balm that is both organic and vegan. So if these things are important to you, Honest Amish is definitely the perfect choice for you.
Also, it comes in a 4 ounce tin so you won't have to buy it as often.
Read the full review here.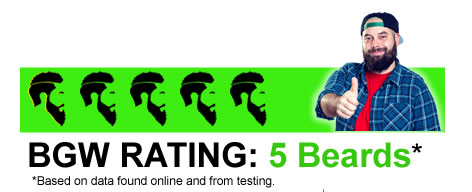 ---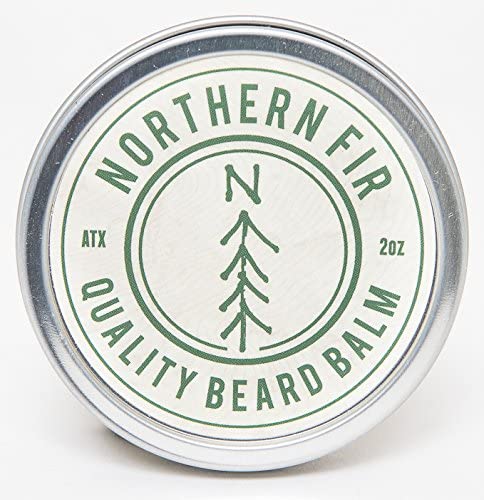 Description
Northern Fir beard balm stimulates facial hair growth and conditions skin. It includes shea and cocoa butter, pure beeswax, cold-pressed jojoba and argan oil, grapeseed oil, cedarwood, sandlewood, juniper berry, lavender, and patchoili.
It is sure to keep your beard soft and shiny all day long.
Review
These guys are a newer company in the beard care scene and are based out of Austin, Texas. And for being a newer company, they are definitely upping the ante in terms of quality.
Every ingredient is taken into careful consideration. Here are some examples.
First, the oils are cold-pressed and unrefined.  Secondly, they source the sandlewood from Australia because it is the highest purity. Third, all the ingredients are cruelty-free.  Fourth, all the products are hand poured in small batches for freshness. And finally, the unique blend of aromatic ingredients were inspired by hiking in the Appalachian Mountains. Both men and women think this beard balm smells incredible!
It's important to note though, that you do pay for all this goodness. This beard balm is a little pricier than the rest in terms of dollars per ounce, but if you can afford it, it is definitely worth it.
After using this beard balm, you won't ever buy another brand. It is that good.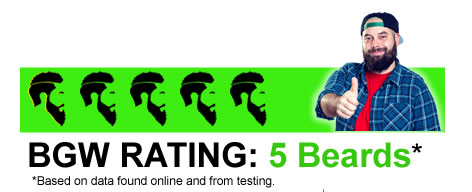 ---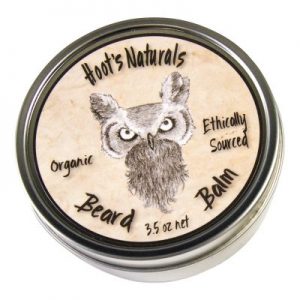 Description
Hoot's Naturals beard balm was created to keep your beard in its best shape. The unique blends of botanicals and other awesome things condition your beard and skin. It does this by protecting the face and hair follicles with antioxidants that stop free radicals from creating damage.
Some of the key items in this are hempseed, murumuru butter, and vitamin E.
Although it also contains rosemary, it is listed as unscented and people say it has no strong smell.
Review
What if I told you that this organic and ethically sourced balm is the cheapest per ounce on this list? And not to mention, a little goes a long way.
I do not know how they did it, but they deliver a quality beard balm at an amazing price.
It also stands out because it contains hemp oil. You won't find hemp in many other beard balms. We like hempseed because it's rich in omega 3, omega 6 and omega 9 fatty acids. These omega fatty acids stimulate blood flow to the surface. This, in turn, helps to stimulate beard hair growth like some specialty beard creams do.
In a 3.5 ounce tin, this one wins the award for best value.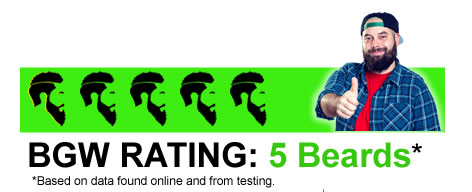 ---

Miscellaneous info
"Ladies Man" scent has a pleasant citrus aroma. It is also available in other scents.
Description
"Ladies Man" Badass Beard balm contains argan, coconut, vitamin E, apricot, rosemary, eucalyptus, and tea tree oil, essential oils, shea and cocoa butter, beeswax.
Each of the oils have unique roles to play in the healthy maintenance of hair. The butters and coconut not only add hold and control of this balm, but also extra moisturizing properties. They are effective at treating and preventing beard itch, moisturizing skin and hair, taming "flyaways," providing shape and giving subtle shine without making your beard look greasy.
Summary
Like other balms on our list, this one contains tea tree oil. Again, we think this is a great addition because of its healing and preventative properties.
Another ingredient that we like is rosemary oil. It comes from a with a pungent, woodsy scent you might be familiar with. The oil is extracted from the leaves.
The leaves from the plant might even be in your spice cupboard. It is delicious in savory dishes and on potatoes.
It has hair growth properties, making it a smart ingredient to add to a beard product.
Eucalyptus oil is yet another excellent ingredient. Eucalyptus has the ability to soothe your skin the same way it soothes your throat when used in cough drops.
If you have a tendency toward skin problems in general (not just in your beard area), Badass Beard Balm is a very healthy choice. Between the eucalyptus and the tea tree oil, you may be able to bring your skin problems under control.
This particular product is one of the pricier ones on our list of best beard balms. However, we think that the unique combination of ingredients in it make it worth the price. We are sure that you're going to love it.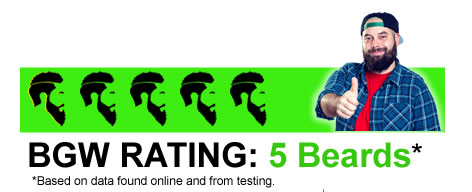 ---

Miscellaneous info
Cigar and vanilla scented; also available in 2 oz. size.
Description
This balm is perfect for the guy who would rather die than be caught shaving his beard. Its ingredients include coconut, apricot(pure), jojoba, and sweet almond oil, vitamin E, aloe vera, and essential oils.
It also contains beeswax and shea butter. Both of these help thicken the product and add hold and control. Shea is also for hydrating and conditioning.
Summary
There is nothing quite like the scent of a fine cigar. This product lets you enjoy that scent without doing any smoke damage.
We love the idea of a cigar-and-vanilla scented beard balm. It is one of the things that really distinguishes itself from its competitors.
It also has some ingredients that set it apart from other balms on this list.
Tea tree oil has long been used for its tremendous healing and sanitizing properties. It is very effective at soothing and treating skin damage, beard itch and those nasty red bumps. It is also thought to prevent lice.
The addition of vitamin E also makes this a smart choice. Vitamin E is ideal for promoting healthy and soft skin, which equals healthy beard hair.
Finally, we think the price is reasonable being that you get a larger 4 ounce container.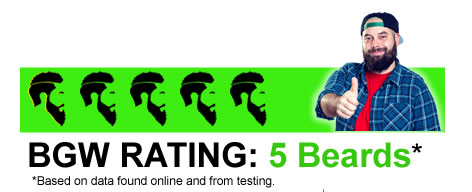 ---

Description
This balm is made of 100% plant-based ingredients. Many (but not all) of them are organic.
It includes coconut oil, cocoa and shea butter. They give the product its thicker consistency. They also condition and soften beard hair.
It also contains avocado, castor, grapeseed, and jojoba oil, vitamin E, plus essential oils of eucalyptus, peppermint and tea tree.
These oils give the balm an aromatic earthy and slightly minty scent. They also invigorate the skin.
Summary
That's right, being fully plant-based, even vegans can feel good about using Wild Willie's Beard Butter.
Aside from that, it is a great balm for long or short beards.
The peppermint oil distinguishes it from many of the others on our top ten list. Combined with eucalyptus, it has a nice invigorating and refreshing feeling and smell.
Also, grapeseed oil holds moisture inside each individual hair. This helps to smooth beard hair and do away with frizz. Overall, this is an excellent beard balm that you can add to your grooming routine.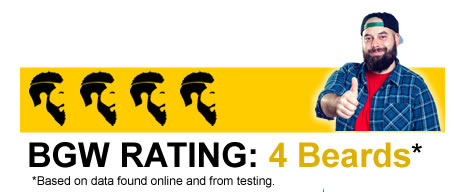 ---

Miscellaneous info
Not tested on animals.
Description
The Bossman Relaxing Beard Balm line of products features 14 different scents. Magic Scent was its first and signature product. It is still one of its most popular.
All 14 of its balms contain the same base. It includes shea and cocoa seed butter, beeswax, mango seed butter, soybean, coconut, lavender, sunflower seed, geranium, and patchouli oil, tocopherol, tocopheryl acetate, and vanilla.
Don't be afraid of "tocopherol" and "tocopheryl acetate." They may sound like funky chemicals. However, they are merely the names for two compounds of vitamin E which are both derived from plant sources.
Both tocopherol and tocopheryl acetate are known for their antioxidant properties. Applied to skin, they can help prevent and possibly reverse UV damage. They are also believed to have some anti-inflammatory benefits.
Summary
We couldn't call this one vegan because the wax it contains is from bees. However, some vegans do not have a problem with using products from bees.
Everything else in this balm come from plant sources. Vegan or not, we all know that most anything that comes from plants is good stuff. So even if you're not, consider this balm like a healthy salad for your beard!
One of the things in this balm that sets it apart from others is mango seed butter. Mangoes are as healthy for your skin as they are for your internal body.
Mango seed butter contains a number of essential fatty acids. These fatty acids are readily recognized, processed and utilized by skin cells. They help firm and plump skin, moisturize, prevent future dryness and can reduce fine lines.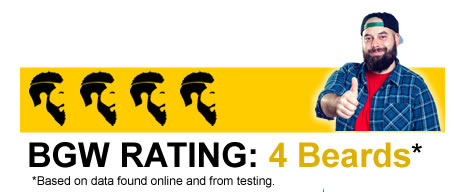 ---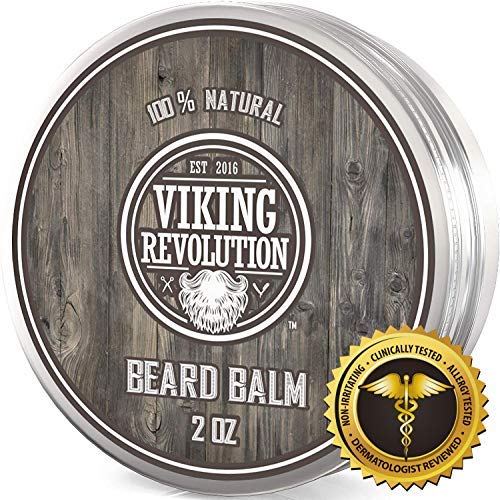 Description
This beard balm from Viking Revolution is excellent. Jojoba and argan oil, beeswax, and mango butter form the base of this balm.
With a pleasant citrus scent, it not only tames unruly hairs, but smells good while doing it.
Summary
No one rocked the beard quite like the Vikings did. That's exactly what this company was going for when it created its line of beard care products.
They didn't need to over complicate things when making this beard balm, simple and to the point. And what you get is a all-natural product that delivers at an excellent price.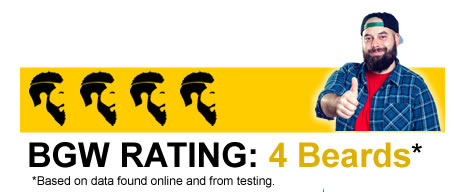 ---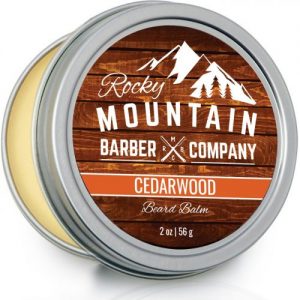 Description
This company is proud to only use all-natural ingredients. This beard balm contains beeswax, shea butter and coconut oil to thicken the product and provide conditioning. Additionally, it softens and controls beard hair, prevents flaking, and relieves and prevents itch.
Also includes argan oil for its beard benefits as well as Vitamin E.
Summary
We like that this balm is all-natural.
Rocky Mountain Barber Company takes quality very seriously. They pride themselves on making its products in small batches. This way you know that the beard balm is always fresh.
Many people enjoy the nice balance of hydration and styling that you get from this beard balm. Plus, it helps to alleviate itchiness and isn't too greasy.
All the 5-star reviews show you that they mean it when they say, you will get a better looking beard inspired by nature.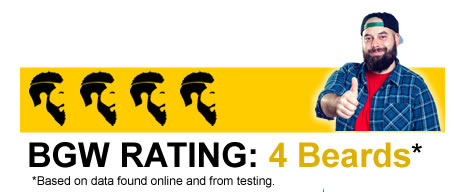 ---

Description
Grave Before Shave Caramel Mocha Blend contains all the same base ingredients as Grave Before Shave Cigar Blend Beard Balm (#5). These include coconut oil, shea butter and beeswax (for thickening plus conditioning and hold).
It also contains pure apricot, jojoba, and sweet almond oils, vitamin E and aloe vera. Finally, it contains a proprietary blend of essential oils. They are largely responsible for giving this product its delectable caramel mocha coffee scent.
Summary
We love this Grave Before Shave Balm as much as the other one on this list. It provides control without feeling stiff, sticky or greasy. Plus, everyone around you will wonder what that decadent smell is!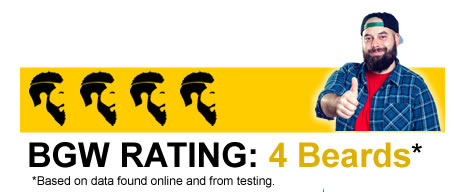 ---
WHAT MAKES A QUALITY BEARD BALM?
It all comes down to the ingredients. If you use poor ingredients you will get a poor beard balm, end of story.
Similarly, ones that are natural or naturally-derived tend to make a healthier beard balm. All of the best beard balms that you'll find on our top ten list are made naturally.
Organic or non-organic?
Some of the manufacturers of the beard balm products on our list use only organic ingredients, while others do not. It is usually more expensive and harder to find ingredients that are non-GMO and grown without chemical pesticides.
Does it matter?
Non-organic ingredients can and almost always are just as effective at doing their intended job as organic ones. However, if you are concerned with the potential of pesticide residue being in your beard balm, opt for a 100% organic product.
What about vegans?
All of the products on our top ten list use either all or mostly vegan ingredients.
However, it's not unusual to find beard balms with things like beeswax, emu oil or lanolin, which are not vegan. Again, it comes down to personal preference.
Non-vegan additives are just as effective as vegan ones. Some even have properties that you won't find in plant-based ingredients. If you are opposed to using any type of animal product, simply opt for a vegan one.
WHAT IS BEARD BALM USED FOR?
Beard balm is typically dual-purpose. First, it is used to groom, tame and style the beard.
Most balms contain additives that have a firm or stiff consistency (as opposed to being liquid). This thickens and firms the balm, but also gives the user the ability to create and maintain shape and style.
Secondly, beard balms are designed to nourish, protect and heal beard hair and the skin it grows from. The oils and butters that make up a particular product preserve hydration and moisture. This moisture softens hair and smooths each individual hair while also moisturizing skin.
WHAT IS BEARD BALM GOOD FOR?
Of course, you could just wash and wear your beard. However, beard hair is like the hair on your head in many ways.
In time, it will eventually dry out if you continually wash away its natural moisture without replenishing it. Beard balm is, in this way, comparable to using a leave in conditioner on your head hair.
However, unlike conditioner (but a lot like mousse, wax and other styling products), beard balm is also used for styling and grooming. Its thick, firm consistency and texture makes it easy to apply and moldable without being too stiff or sticky. (Also, unlike conditioner, you don't wash it out.)
On the other hand, if you are just looking for something for styling and not conditioning, then you are better off with a wax. Check out our full guide of top beard waxes.
On the flip side, if you are looking for something thinner than a balm, then a beard oil might be the best option for you.
Many people that are looking to improve the softness of their beard also use a rinse-out conditioner as part of their grooming.
WHAT ARE THE BENEFITS OF USING BEARD BALM?
Provides softness to hair
Prevents "flyaways" (those stubborn hairs that just don't want to stay in place)
Heals and prevents split ends
Treats and prevents burning and itching
Helps to prevent ingrown hairs
Keeps skin soft and supple
Prevents flaking
Prevents hair from breaking
May help beard hair grow faster
Helps beards grow thicker
Makes your beard easier to style
Creates and holds your beard's shape/style
Conclusion
So, what are you waiting for?
With so many great options, it is easy to choose the best beard balm for your grooming routine. Then, you will be on your way to a healthier and more controlled beard in no time!